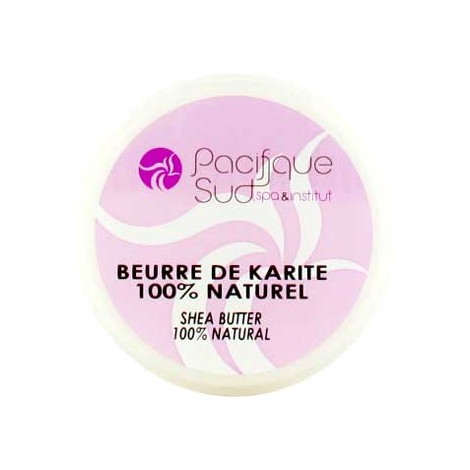  
Natural 100% shea butter
Shea Butter moisturizes, protects, nourishes and repairs skin and hair.
It is an ideal partner during pregnancy to avoid the appearance of stretch marks.
Very easy to use, it allows for excellent massages, as well as Monoi Shea Butter or Monoi Cocoa Butter.

Melt a knob of butter in the palm of your hand and massage gently.
Repair and protection of the body and hair ...
Native to Africa, Shea is a majestic tree that grows wild in the savannah and can live up to 3 centuries.
The name "shea" means "butter tree" in traditional language, because one extracts from its nuts a butter with a thousand virtues, which is an integral part of the African tradition, as well as in the food, the health, the beauty of the skin and hair, only in sacred rituals.
The assets :
- 100% Natural
- Without perfume
- Moisturizer
Data sheet
Ingredients

Butyrospermum parkii butter

Capacity

125 ml

Packaging

Plastique Tub

Use

Apply generously on the whole body by penetrating by light circular massages. It is used daily, all the year, at the exit of the bath or the shower, and after exposure to the sun.

Precautions for use

It is advisable not to use this product before sun exposure. Avoid contact with eyes. Do not swallow. External use.