The Tahitian Raw Fish by Chef Teheiura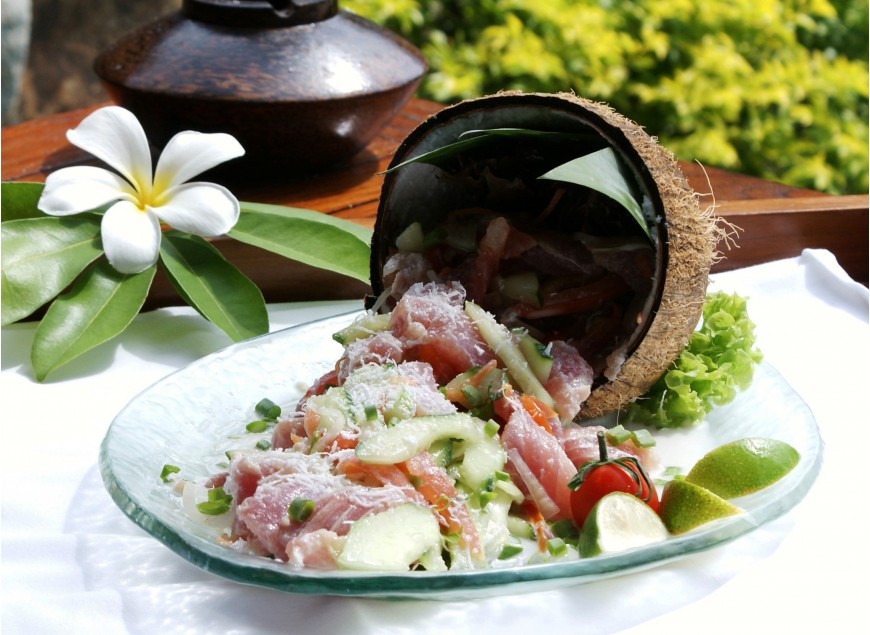 Today we introduce you to a brand new recipe, emblematic in Polynesia and very much appreciated: the Tahitian-style raw fish by the chef Teheiura.


To make it you will need (for 2 people) :

- 200g of bluefin tuna fillet,

- 1 tomato,

- 1/2 cucumber,

- A little grated carrot,

- A little chopped onion,

- The juice of a yellow lemon,

- Coconut milk,

- Snipped chives,

- Salt & pepper.


Step 1: Dice your bluefin tuna fillet (set it aside in a bowl).

Step 2: Cut the tomato, cucumber, carrots and onion into pieces and mix them in a salad bowl (salt & pepper). Then add the tuna fillet, previously cut into cubes.

Step 3: Squeeze the lemon juice and pour it into the salad bowl containing the vegetables and the bluefin tuna (do not put too much lemon juice so as not to have too much acidity in the mouth).

Step 4: When all this is done, pour the coconut milk into your preparation, mix well afterwards (do not hesitate to put coconut milk).

Step 5: Put it on the plate and add a few pieces of fresh chives. Set aside in the fridge.


IT'S READY!


As a starter or a main course, raw fish can be eaten well chilled. Enjoy!