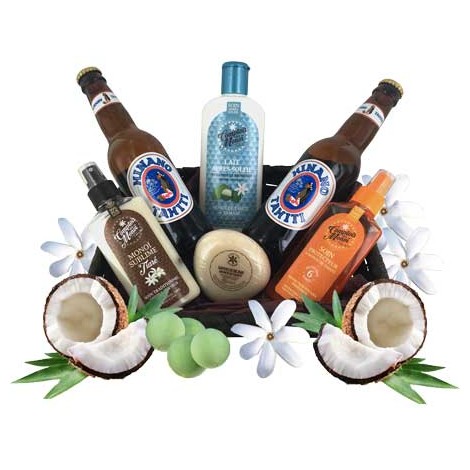  
Maori Box - For Men
Happy father's day Dad !
Discover our Maori Box special box Father's Day, guaranteed escape ...
A sober and perfumed care box, an invitation in a polynesien travel, for men.
Enriched with Monoi of Tahiti, these products will give you a moment of pure pleasure and escape in the sun and in the shower.
For relaxing after a beautifull day, two Hinano beers to savouring alone or sharing with friends.
And to unwind after a nice day, two Hinano beers to enjoy alone or to share.
A complete polynesian box, a perfect relaxation for Father's day !
Our Maori Box - Father's Day contains :
- Milk after sun, 200 ml: Ideal to repair, soothe the skin after exposure to the sun, thanks to its composition of Monoi de Tahiti and Tamanu oil.
It will relieve redness, tingling and tightness, to find a deep golden skin and hydrated !
- A protective care SPF 6, 100 ml: To protect your skin from the sun's rays while intensely moisturizing, a nice tan all summer guaranteed !
- A Monoi Sublime Tiare, 100 ml: The ideal care for protection, nutrition and repair throughout the year.
- A Sublime Tiare Soap, 100 g: Sweet and scented with Monoi de Tahiti A.O. to clean and nourish your body in depth.
- Two Hinano Beer, 33 cl: The Polynesian reference beer, share in a friendly atmosphere. + A basket of wicker or bamboo offered !
Data sheet
Capacity

200ml / 100ml / 100g / 33cl

Packaging

Glass Bottle and Plastic Bottle

Réglementation

Alcohol abuse is dangerous for health, it impairs the behavior and prohibits the driving of a vehicle. To consume with moderation.