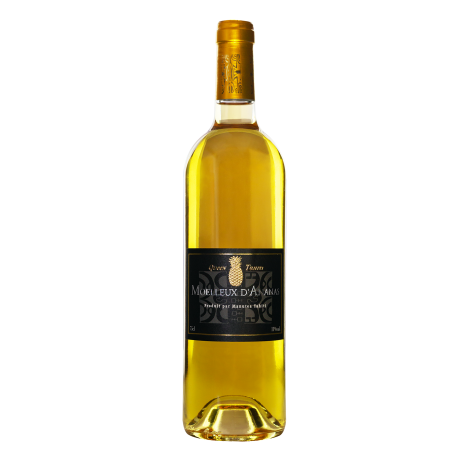  
Mellow Pineapple - 11° (37.5/75cL)
The finesse and delicacy of the Pineapple Cake
Its flattering nose will transport you to exotic horizons, its golden robe will recall the luscious and fragrant flesh of the Pineapple from the island of Moorea and its fruity mouth will seduce for its balance and its roundness.
Developed in the cellar of the Moorea fruit juice factory, this product is the result of the fermentation of a pineapple must of the Queen Tahiti variety, vinified in the purest tradition of French know-how.
Tasting suggestion:
To be enjoyed chilled with foie gras or as a dessert with a chocolate coconut tart or a banana Poe.
Iconic fruit of the Polynesian region
The Queen Tahiti Pineapple is adorned with sweet sweet notes to bring finesse and delicacy to the Pineapple Cake. Raised at the foot of Mount Rotui on the island of Moorea, this unique product in the world comes from the fermentation of a noble and healthy fruit, whose taste qualities are unanimously recognized.

Derived from a traditional vinification method, it nevertheless required research and patience to grant the manufacturing method to the delicacy of pineapple must, very different from grape must.
The Queen Tahiti variety offers us a fruit of incomparable aromatic power that Manutea Tahiti has been carefully preserved in this 100% Polynesian drink.
Organoleptic profile:
Alcohol level: 12°
Appearance: Golden Yellow
Nose: Gourmand on Roasted Pineapple
Taste: Supple and generous with a nice balance of fresh fruit
Finish: Ample and marked by the sweetness of Queen Tahiti pineapple
"Alcohol abuse is dangerous for your health, consume in moderation. Alcohol should not be consumed by pregnant women.
The sale of alcohol is prohibited to minors: you certify that you are of legal age and legal capacity to purchase on this website. »