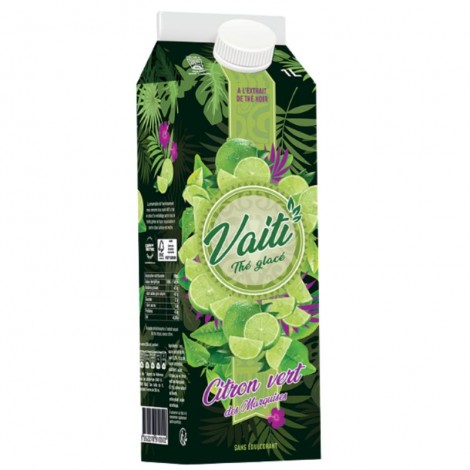  
Vaiti, Marquesas Lime Iced Tea (1L)
Vaiti, a natural and refreshing tea!
Vaiti is a brand of tea drinks produced in Tahiti by the Brasserie de Tahiti located in the Punaru Valley' u. Made withnatural infusedblack tea extract,this drink is refreshing and thirst-quenching. Its fragrancecontainsMarquesas lemon extract.
This tea is no sweeteners, colors or preservatives and no artificial flavors.
"Vaiti has chosen cardboard packaging from responsibly managed forests with a neutral carbon footprint. Preserving the environment concerns us all."
This Vaiti iced tea is made from natural extract of infused black tea in accordance with an authentic selection of gourmet fruits.
Your Vaiti drink is inspired by homemade iced tea, combining pleasure of taste and well-being. Rediscover a new feeling of freshness.
Ingredients:
Water, sugar, black tea extract (0.2%), caramelized sugar syrup, acidifier: citric acid, Marquesas lime juice (0.1%), natural lime flavor, antioxidant: ascorbic acid .
Data sheet
Capacity

1L

Use

A conserver au frais et à consommer rapidement après ouverture

Nutrional Values (g/100g)

Valeur nutritionnelle pour 100 ml - Valeur énergétique 100KJ / 24Kcal - Matières Grasses 0,5g - dont acides gras saturés 0,1g – Glucides 5,7g - dont sucres 5,6g – Protéines 0,5g - Sel 0,005g