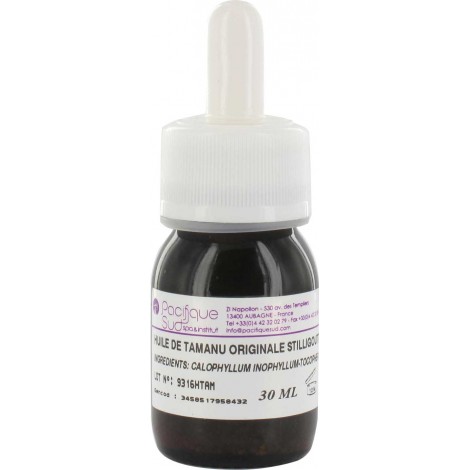  
Original Tamanu Virgin Oil (30/60/250mL)
Pacific Green Gold
A beauty oil with a thousand virtues
Marked by a singular smell of nuts, Tamanu oil or Calophyllum Inophyllum is widely used by indigenous tribes in the Pacific regions.
The sacred Tamanu tree with outstanding healing properties still holds a prominent place in local medicine.
Since the 1950s, studies have demonstrated the regenerating, healing, protective, antibacterial and anti-inflammatory properties of Tamanu oil.
This "Sacred Oil" is the essential beauty oil to have in your bathroom !
Tamanu, Polynesian sacred tree...
The Tamanu is considered as a sacred tree for a long time. It is planted in the «marae" (sacred sites). It was said that the gods were hiding in trees to watch humans without being seen. Its wood was used exclusively to produce totems, tiki and idols. Thanks to this protection, the Tamanu tree became widespread in Polynesia, where it makes magnifi cent forests overlooking the «Motu» (coral reefs). It is appreciated for its sweet-scented fl owers and elegant foliage, planted along the streets. With the Polynesian's conversion to Christianity, the exploitation of these trees became intensive for their leaves, oil and fruits used in various fields.
In the 50s, the fi rst scientifi c studies on the oil extracted from the nuts helped to highlight the exceptional healing properties: regenerative, healing, moisturizing, anti-bacterial, anti-parasitic and a surprising anti-infl ammatory activity ...
Nowadays, the Tamanu or «ati» with many powers is still important in the local pharmacopoeia. It is known for its exceptional healing properties.
A miracle cure for atopic skin ...
Tamanu oil appears very effective for the treatment of skin conditions and is very recommended for the problems of atopic skin: eczema, pimples and scars of acne, psoriasis, cracks, various dermatoses ....
And / or for a In-depth treatment of wrinkles, dark circles and bags under the eyes (anticoagulant).
Using Advice
Tamanu Original oil can be applied pure on the skin, in massage of the body or locally on the damaged and very dry parts, calm irritations. This oil will also bring its many moisturizing, soothing, calming properties for various treatments, by association with other products such as neutral bases, waxes or vegetable oils to combine the active principles and the fragrance of these oils. It can also be used in scalp massage or in longer exposure to enjoy all its benefits. Then wash with a mild shampoo.

Tamanu Original oil is obtained by cold pressing the hulls of Tamanu.
Properties
- Moisturizer, Nourishing & Restructuring - Soothing and protective (sunburn, inflammation, erythema ...)
- Regenerating on the cells of the epidermis (burning, chapped ...)
- Anti-bacterial, anti-acneic and antiseptic
- Anti heavy Legs: Increases the surface microcirculation
Most
- Tamanu Original Label
- 100% natural virgin oil
- Tahitian origin guaranteed
- Resin content> 10%
Data sheet
Color

green

Ingredients

Calophyllum inophyllum seed oil, Tocopherol.

Capacity

30ml, 60ml, 250ml

Packaging

Glass Bottle and Plastic Bottle

Precautions for use

It is advisable not to use this product before sun exposure. Avoid contact with eyes. Do not swallow. External use.