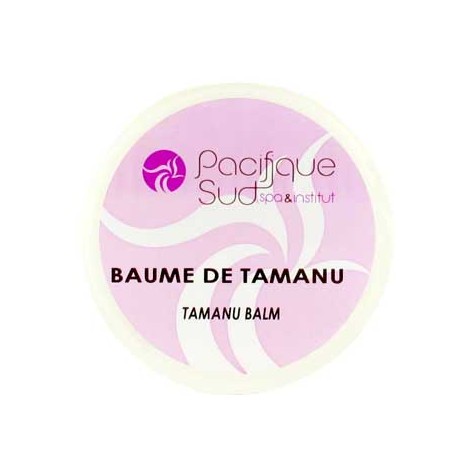  
Tamanu Balm - Pacifique Sud Spa & Institut (125mL)
A cosmetic gem ! A most virtuous cream!
In a delicate and fragrant structure, we have designed a unique treatment! This creamy and smooth balm is a blend of two oils considered sacred in Polynesia: The Monoï de Tahiti and Tamanu oil.
World-renowned, Monoi de Tahiti is a sacred oil from Polynesia. A real skin care that has been advocated until now in traditional medicine.
Through the combined action of these 2 oils with multiple virtues, Tamanu Balm hydrates, nourishes, and protects the skin while regenerating and revitalizing it.
Green Gold of the Pacific & Monoï de Tahiti A.O.

Marked by a unique nutty odor, Tamnu oil or Calophyllum Inophyllum is widely used in the Polynesian pharmacopoeia for its medicinal virtues.
Indeed, Tamanu oil has regenerating, healing, protective, antibacterial properties and anti-inflammatory activity.
It is exceptional for the treatment of skin conditions and for atopic skin problems:
eczema, pimples and acne scars, psoriasis, cracks, various dermatoses. ...
And/or for deep treatment of wrinkles, dark circles and bags under the eyes (anticoagulant).

This balm is particularly suitable for regenerating dry and damaged skin, and is excellent for soothing the skin after shaving, after exposure to the sun, or in cases of chapped and cracked skin.
The Balm of Tamanu can be used pure in local application on problem skin or all over the body for a relaxing massage.
Plus
- 100% Natural
- No Preservatives
- No Synthetic Fragrance
Data sheet
Color

Light green

Ingredients

Hydrogenated coconut oil, Calophyllum inophyllum seed oil, Cera alba, Gardenia tahitensis flower, Tocopherol

Capacity

125 ml

Packaging

Plastique Tub

Use

Apply generously on the whole body by penetrating by light circular massages. It is used daily, all the year, at the exit of the bath or the shower, and after exposure to the sun.