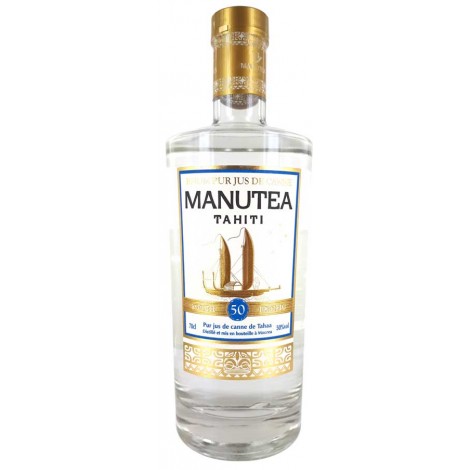  
Pure Rum White Cane Juice - 50°
Pure Rum White Cane Juice: Best Rum Awards Paris 2018
Made from pure Taha'a Cannes juice, Pure Rum White Cane Juice 50% delivers the secrets of the Polynesian terroir.
Distilled on the sister island of Tahiti, the Société Manutea Tahiti Moorea.
The sugar canes of Tahaa are grown in the utmost respect for the environment.
Once grown, they are crushed and squeezed to harvest the juice.
The vesou is traditionally distilled in an alembic that allows a selection of aromas.
To diversify your alcoholic preparation, also fall for for Pure Rum White Cane Juice - 40 °
For sweet cocktails at the Tahaa Cannes .....
Cultivated on the heights of Tapuamu in Taha'a, the sugar cane is freshly cut and pressed.
The cane juice benefits from traditional know-how secretly kept.
Its intense and sweet perfume recounts the freshness of the Polynesian terroir.
After the fermentation, the vesou is ready and 7 ° title.
It will join the Moorea island where Manutea Tahiti Distillery.
A passage in discontinuous alambic allows to extract fine and elegant aromas of honey citrus.
At the end of the process, the rum is aerated and slowly reduced for three months before being bottled.
Nose
Beautiful harmony between the sweet heat of the cane combined with floral notes (liquorice).
Mouth
Neat and sweet. Melodious notes of banana and tangy passion fruit. Subtle and mentholated.
Final
Ample with a good length on the palate, gives off sweet notes of honey and citrus.
Features
Origin
Tahiti
Type of alcohol
Pure rum of cane juice
Data sheet
Capacity

70 cl

Packaging

Glass bottle

Réglementation

Alcohol abuse is dangerous for health, it impairs the behavior and prohibits the driving of a vehicle. To consume with moderation.