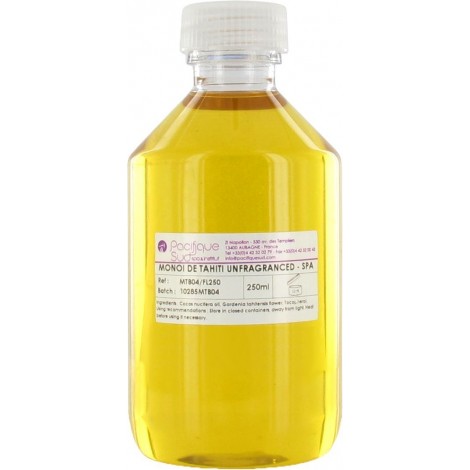  
Monoï de Tahiti AO Unfragranced (250mL/1L)
Monoï Brut de Tahiti... A perfect beauty ally!
Discover the authenticity of Tahitian Nature!
Macerated in refined coconut oil, freshly picked tiare flowers release all its benefits. Known for its moisturizing, therapeutic and soothing properties, it has remained a reference in daily care in Polynesian culture for 20 years.
Used in tanning oil, it is also used in hair and body care oil. Its production was jealously guarded for a long time, and transmitted through oratorical education.
The purity of the Tiare! Secret of Polynesian Women revealed..
Looking for real monoi? Monoi de Tahiti Appellation of Origin, available for you!
A Tiare flower macerate obtained by enfleurage in copra oil. Monoï de Tahiti is a natural beauty product, allowing you to benefit from all the virtues of the Tiaré flower.
Used in traditional cosmetology, but also in the Polynesian Pharmacopoeia, it relieves migraines, headaches, styes, mosquito bites, etc.
The sweet scent of Tiaré Tahiti envelops the soul which deliciously relaxes and reinvests the body. Perfect for the skin or hair care, let your imagination follow the olfactory rhythm of the islands. Can be combined with several perfumed oils, you can create your monoi from this base overflowing with naturalness.
Ingredients:
Cocos nucifera oil, Gardenia Tahitensis flower, Tocopherol