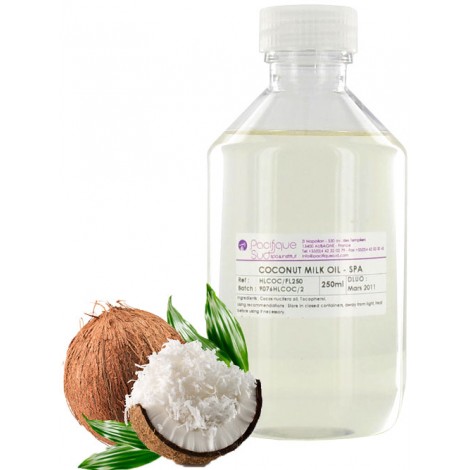  
Coconut Milk Oil
A Tahiti, the Coconut is an integral part of Polynesian culture.
Traditional healers have traditionally practiced massages with coconut milk oil to moisturize, protect and repair the body.
The Virgin Coconut Oil is a vegetable oil obtained by cold pressing and extracted from fresh coconut milk: The virtues lent to this oil are numerous ... Indeed, it relieves the skins with cutaneous affectation and the protection of the external aggressions: Its incredible power of hydration is the best asset of the dry, rough and fragile peaches.
In addition, coconut oil is an excellent ally to fight stretch marks during pregnancy and to repair postpartum pelts.
Coconut oil, a miracle oil for your skin and hair ...
The pressure of the nuts makes it possible to extract from the flesh a light cream, which after separation of the aqueous and oily phase, then filtration,
gives the Virgin Oil of Coconut Milk .
Thanks to its strong antioxidant power, Coconut oil proves to be an excellent anti-aging natural product;
Rich in Lauric Acid, Vitamin E, Vitamin A and Iron, it helps fight against aging and sagging skin and brings shine to your skin and a pleasant sweet smell.
ideal and practical to use in make-up remover, for optimal hydration and a new and clean skin !

To know more about Coconut oil, click here on our Blog beauty !
Using advice
Directly applied to the skin for massages, or for care in combination with other products such as powders or sands, this oil leaves a delicate scent of coconut that will invite to the trip.

For your hair :
In scalp massage, hydration on the lengths by small touches, or in longer exposure (mask) to enjoy all its benefits, the Coconut oil will leave your hair scented for a seductive, soft and shiny asset!
Benefits
- Unscented synthetic
- 100% natural virgin oil
- Natural vitamin E
- Natural Coconut
- Ready to use
Composition
Cocos nucifera oil, Tocopherol.