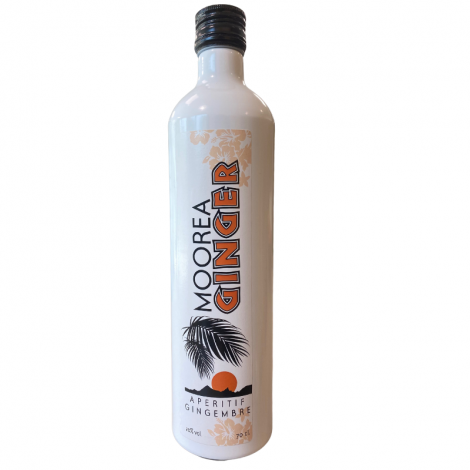  
Moorea Ginger Liqueur - 20° (70cL)
Made from fresh ginger harvested in Moorea, this liqueur offers a unique and exotic flavor that will delight your taste buds. Enjoy the perfect balance between the sweetness of cane sugar and the vivacity of ginger in every sip.
The origins of Moorea Ginger Liqueur:
The Moorea Ginger liqueur has its roots in the paradise islands of French Polynesia, where the richness of flavors and aromas is a thousand-year-old tradition. Inspired by the breathtaking beauty of the island of Moorea, this liqueur was created to capture the very essence of this tropical island.
Aromas and Flavours:
The long-awaited moment has finally arrived: taste the Moorea Ginger liqueur! From the first contact with your taste buds, you will be seduced by a bouquet of intoxicating aromas. The woody notes blend beautifully with the powerful scents of fresh ginger, creating a unique sensory experience.
On the palate, the liqueur reveals its complexity: a gentle warmth emanates from the ginger while the liqueur adds subtle depth. Each sip delivers a symphony of flavors that evolve gracefully, inviting you to explore the endless nuances of this captivating liqueur.
Pairing and Tasting:
The Moorea Ginger liqueur is a culinary treasure that goes perfectly with many exotic dishes. You can enjoy it neat, over ice, to fully appreciate its complexity, or use it as an ingredient in bold cocktails. It goes perfectly with spicy dishes, tropical fruit desserts or simply to crown a moment of relaxation under the sun.
"Alcohol abuse is dangerous for your health, consume in moderation. Alcohol should not be consumed by pregnant women.
The sale of alcohol is prohibited to minors: you certify that you are of legal age and legal capacity to purchase on this website. »
Data sheet
Capacity

70 cl

Packaging

Glass bottle

Use

Consume at 10 degrees. The liqueur can be eaten digestive or enter the composition of cocktails.

Réglementation

Alcohol abuse is dangerous for health, it impairs the behavior and prohibits the driving of a vehicle. To consume with moderation.