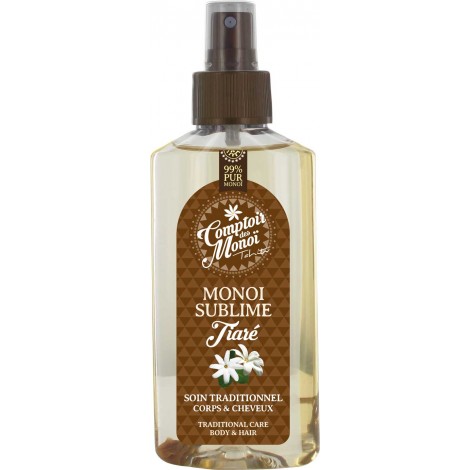  
Monoï Sublime Tiare 99%, in Spray (100mL)
With its 99% concentration of Monoï de Tahiti A.O. and scented with Tiare (concentration 1%). The Monoi Sublime Tiare Spray 99% is moisturizing, nourishing, repairing and protector. Can be used for body and hair
It softens, protects your skin and hydrate your hair every day as well and after sun exposure. You will especially appreciate it for its plastic/spray packaging during the summer! More lighter than the glass version and smarter thanks to its spray cap. For dosed application and wastefulness on the beach.
Monoï de Tahiti or the beauty oil
Anchored in Polynesian culture, the Monoï de Tahiti A.O. is both an ancestral remedy and also a beauty treatment for Polynesian women. They apply this oil daily to the body and hair, for maximum nutrition and hydration, and indulge in the most perfect tan on their tanned skin.
The virtuous qualities of the Tiaré Flower give this oil a richness without previous.
Features:
- Allergen free
- Plastic bottle, lighter than the glass version: Monoï Sublime
- Spray cap/spray, practical and smart
- Very good hydration
- Very good penetration
- Without parabens or other preservatives
Main ingredients:
- Monoï de Tahiti A.O. (99%)
- Perfume Tiaré (1%)
Composition:
Cocos nucifera oil, Gardenia Tahitensis flower, Perfume, Tocopherol.
Data sheet
Ingredients

Cocos nucifera ( Cocos), Gardenia Taitensis flower, Perfum, Tocopherol

Capacity

100 ml

Packaging

PEHD Spray Bottle 100ml

Use

Collect some pressure in the palm of your hand, apply on the body and the hair to protect them after exposure to the sun, or just after to feed them.

Precautions for use

It is advisable not to use this product before sun exposure. Avoid contact with eyes. Do not swallow. External use.