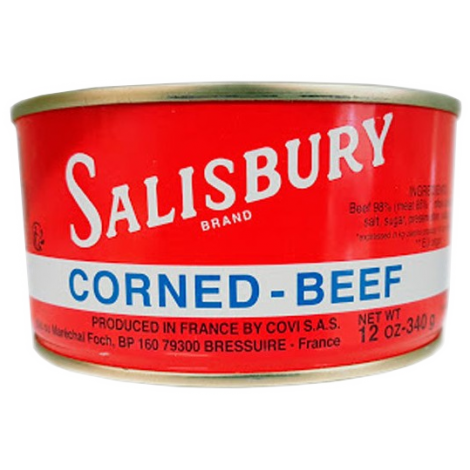  
Corned Beef - Salisbury (340g)
In Tahitian cuisine, Corned Beef has become a staple.
Shortly after his arrival on Polynesian territory, it very quickly integrated the stoves of the "Mamas" into their kitchen. Thus the "Mamas" have concocted the best dishes, simple and tasty, to the delight of their families.
Discover the famous local recipe: Tahitian Corned beef Recipe
Focus on the beautiful recipes of Polynesian mothers
Corned beef: " Salisbury"
First, sauté the onions
Cook the Corned Beef in a pan, salt and pepper.
Small Asian alternative: Cook the "Salisbury" in a hot pan in two spoons of salted soy sauce.
No need to cook the Corned Beef with oil.
It is recommended to first put the can of Corned Beef directly in hot water in a bain-marie to melt the oil meat, and gut it.
Corned Beef & Beans
Cook the Salisbury in a skillet, gradually add the small beans so that everything simmers together.
When the dish is cooked, add the corn.
Serve hot with rice.
Possibility of adding tomato sauce.
Corned beef & lentils
Cook the lentils in water, season with salt, pepper and garlic.
Sauté the onions and the Salisbury… Salt and pepper.
When the lentils are cooked, mix the Salisbury with the lentils.
Feel free to add Provencal herbs or spices to flavor your lentils.
Accompany with rice, or a banana for a sweet and savory side!
Corned Beef & Pasta
Same principle as the famous Bolognese! Except, it's the Salisbury!
Cook the pasta, salt and pepper!
Fry the Salisbury with 4 cloves of garlic and 1 onion, then salt, pepper, and mix with tomato sauce or Bolognese sauce.
(Either mix everything together, or leave it aside).

Corned beef & Cabbage & Rice
Cut the cabbage into small pieces and blanch in boiling water for 5 minutes. Drain and sauté them with onion and a little oil. Wait until the cabbage is well cooked before adding the Salisbury. Cook 5 minutes. Serve hot with rice.



Data sheet
Ingredients

REC 031 : Boeuf 97,95% (beef meat, beef head meet, beef fat), salt 1,3%, sugar 0,75%, preservative : sodium nitrite.

Capacity

340 g

Use

Store at room temperature after opening. Keeps 48 hours in the fridge after opening. Best before the date on the lid.