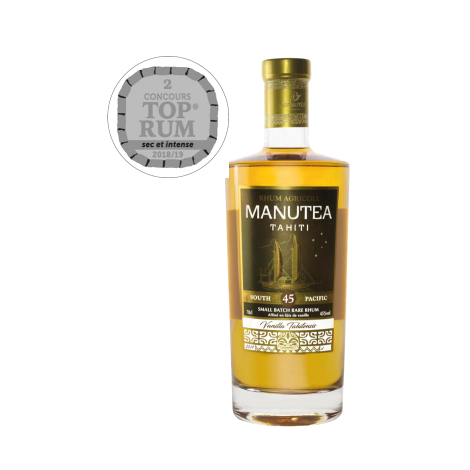  
Agricultural Rum Vanilla Tahitensis - Manutea - 45° (70 cL)
A delicious creation carefully distilled from the rare Vanilla Tahitensis.
Discover the very essence of Tahiti in every sip, with notes of vanilla, licorice, caramel and star anise.
Tasting suggestion:
To be enjoyed neat to bring out all the aromas, accompanied by a square of chocolate.
Manufacture:
Vanilla tahitensis is the orchid that produces Tahitian vanilla. Picked at full maturity, it is recognized as the most fragrant and fruity vanilla. Its sweet and floral notes make it a rare and highly sought-after product by great chefs. Manutea Tahiti offers you a unique taste experience by discovering the finesse of Tahitian vanilla through this pure cane juice rum which has spent a minimum of 6 months in French oak barrels which have been used to produce vanilla extract. from Tahiti. This exceptional maturation gives the rum its copper color and its gourmet aniseed and caramel flavors specific to Vanilla tahitensis. Manutea Tahiti puts all its know-how at the service of a sweet and generous pure cane juice rum that we invite you to discover. Ia Ora na e Maeva!
Organoleptic profile:
Alcohol level: 45°
Appearance: Golden color with copper reflections
Nose: Aromas of vanilla, liquorice and star anise
Taste: Powerful and round at the same time, notes of liquorice, caramel and mint
Finish: Return to the fresh cane and a finish that opens on vanilla
"Alcohol abuse is dangerous for your health, consume in moderation. Alcohol should not be consumed by pregnant women. The sale of alcohol is prohibited to minors: you certify that you are of legal age and legal capacity to purchase on this website. »