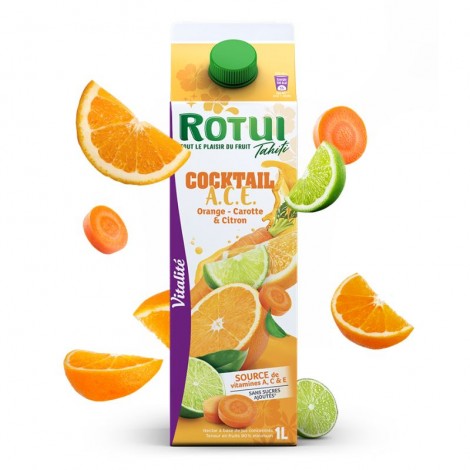  
Rotui, A.C.E. Cocktail - Fruit Juice (1L)
A.C.E. Cocktail Energy Nectar
Discover a natural multivitamin nectar
Fruit nectar A.C.E. is a source of vitamins A, C and E.
It is composed of: carrots, lemon and orange. And always without added sugars strong> !
Rich in iron, minerals and vitamins, it will be essential to your breakfasts in order to wake you up under the sign of good humor!
A vitality and energy booster for your days! Best consumed fresh.
This Vitalité range, without added sugars, is available in 1 liter format. ACE cocktail nectar is full of vitamins, antioxidants and fiber.
Data sheet
Capacity

1L

Packaging

Brick

Use

To better eat this drink, shake before serving. A preservative in the original packaging at room temperature away from light. After opening, keep cool between 4 and 6 ° C.

Réglementation

To keep cool after opening. Can be consumed several weeks after the Best-before Date (BBD)