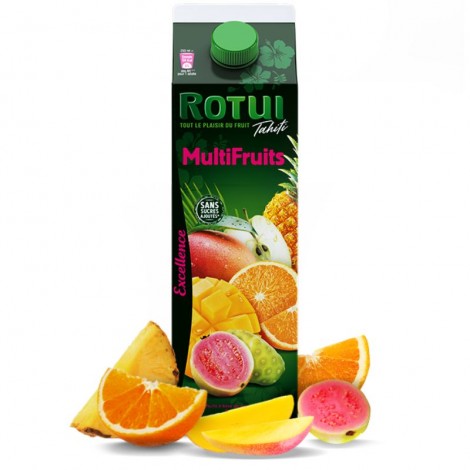  
Rotui, Multifruit Juice with Noni (1L)
A typically Polynesian Multifruit!
The pure juice Rotui Multifruits Noni comes from a selection of delicious tropical fruits added to the Noni , Polynesian fruit, well known for its vitamin content and its health benefits. Indeed, Polynesians have used this fruit for its therapeutic benefits for more than 2000 years.
Rotui Multifruits, a 100% juice, without added sugars, composed of fruits chosen for their tastes and their virtues.
The combination of these fruits gives us a juice of character.

The'Pineapple brings its bromelain, the Mango, OrangeandGuavatheir vitamin C.

The Noni, a Polynesian fruit, provides medicinal virtues which have been acclaimed by the Polynesian pharmacopoeia< /strong>.
Noni
It is one of the rare fruit trees to bear fruit all year round. Baptized "the wandering plant" by the Polynesians, Noni contains cores filled with seeds each attached to a small air sac which allows the fruit to travel on water from island to island... It thus increases its power of production. Noni juice treats health conditions and disorders: It stimulates the immune system, can relieve inflammatory pain and fights various infections (bacterial, viral, etc.)
Ingredients:
Concentrated multi-fruit juice (orange, apple, mango, guava, pineapple), noni puree, antioxidant: vitamin C.
This product contains only sugars naturally present in fruits.
Warning:
Products on promotion are likely to have a DLUO (Optimal Use By Date) or MBD (Minimum Durability Date) that is short-lived or has passed.
Fruit juices can be consumed several months later the DLUO.

To find out more:
http://www.economie.gouv.fr/files/directions_services/dgccrf/documentation/publications/depliants/dlc.pdf
For your health, avoid snacking between meals.
Eat Healthy – Older adults should eat at least five servings of fruits and vegetables every day.
Data sheet
Capacity

1L

Packaging

Brick

Use

To better eat this drink, shake before serving. A preservative in the original packaging at room temperature away from light. After opening, keep cool between 4 and 6 ° C.

Nutrional Values (g/100g)

Energy value: 210Kj / 50Kcal (for 100ml) Herbs: 0.1g Carbohydrates: 11g sugars: 11.2g Fat: 0.1g Protein: 0.4g Salt: 0.01g

Réglementation

To keep cool after opening. Can be consumed several weeks after the Best-before Date (BBD)