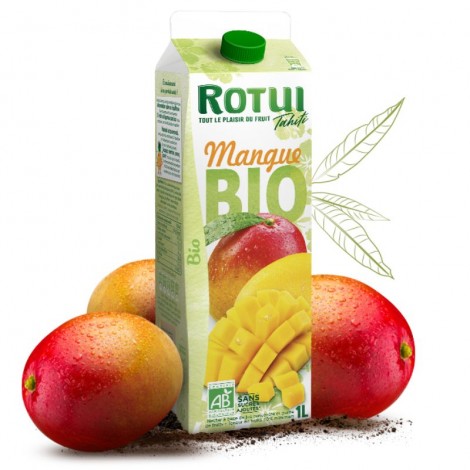  
Rotui Bio, Mango (1L)
Organic mango nectar from Moorea
A tropical and natural sweetness
This mango nectar is a 100% natural juice whose sugars come only from the fruits that compose it (no added sugars)
Softness and creaminess will delight your taste buds at any time of the day.
In Polynesia, generous and juicy mangoes grow naturally, and are pressed immediately after picking.
The Mango is a generous fruit, with rounded cheeks. Its orange flesh, juicy with a delicious taste, is rich in iron and vitamin C.
Best to be consumed fresh.


The Rotui brand was born in 1981 in Moorea, taking the name of the famous mountain that dominates the two bays of Moorea and the pineapple fields.
This organic range, with no added sugar, is available in a 1 liter format. Organic Mango Nectar is organically grown and grown with respect for the soil and nature.
"PRODUCT FROM ORGANIC FARMING - CERTIFIED BY ECOCERT FR-BIO-01"