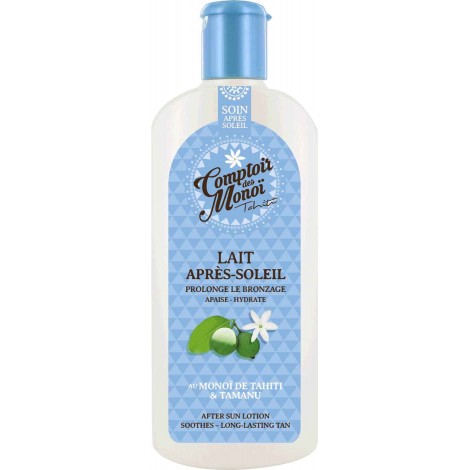  
After Sun Milk - Comptoir des Monoï (200 mL)
A milk that will take care of your skin after sunbathing
Thanks to its formula enriched with Monoï de Tahiti and in Tamanu Oil, the After-Sun Milk instantly soothes skin irritated by the sun.
It is an ideal treatment which benefits from the benefits of Tiaré, the moisturizing properties of< em> Nut of Coconut, and the exceptional virtues of Tamanu.
Tan and take care of your skin!
Specifically formulated to compensate for skin imbalances resulting from exposure to the sun, its formula contains a refreshing active ingredient which soothes the skin, eliminating feelings of tingling and tightness.
After-Sun Milk enriched with Monoï de Tahiti A.O. and Tamanu Oil< /strong> contains a latest generation tan prolonging active ingredient.
Monoï de Tahiti A.O.

A precious concentrate of naturalness and authenticity, Monoï de Tahiti A.O., is known for its soothing, hydrating and therapeutic virtues.
It is through a mixture macerated under the sun, of Tiaré Tahiti flowers and Coconut pulp that is obtained the traditional Monoï de Tahiti A.O.


The magical properties of Tiare (Gardenia taitensis) and the moisturizing benefits of Coco pulp (Cocos nucifera) offer us all the generosity and Polynesian delicacy .

In traditional medicine, Monoï de Tahiti is the basis of all medicinal and therapeutic treatments.
Tamanu oil (CALOPHYLLUM INOPHYLLUM)
Fronting the coral coasts of Tahiti and its islands, the "Tamanu" shrub is a wood used in its entirety: from the root to the fruits!
Tamanu wood is used in the art of sculpture and marquetry.
Thus, the Polynesians could build "fares", canoes, furniture.
Its leaves, the juice of its bark and its roots were used in traditional medicine.
Only the 'Tahu'a' priests knew the secrets of the medicinal recipes based on these ingredients.
It is from dried fruits, freshly pressed, that we harvest our precious oil of Tamanu.
The properties of this oil are recognized worldwide.
It has soothing, moisturizing, anti-inflammatory and healing properties.
When you get out of the bath or shower, apply this treatment delicately, especially after exposure to the sun.
Apply with light circular massages.
Its soft, melting and delicious texture is suitable for all skin types; It leaves the skin supple and velvety, and gives you a pleasant feeling of freshness.
Suitable for all skin types including very dry and sensitive skin.
Main ingredients:
- Perfume of Tiare
Composition:
Aqua (water), Parafinnum liquidum, glycerin, Cocos nucifera (coconut) oil, Polyglyceryl-2 dipolyhydroxystearate, Lauryl glucoside, Calophyllum inophyllum seed oil, Parfum (fragrance), Tocopherol, Inositol, Polyacrylate crosspolymer-6, Carbomer, T -butyl alcohol, Sodium hydroxide, Tetrasodium glutamate diacetate, Triethanolamine, Chlorphenesin, Citric acid, Phenoxyethanol