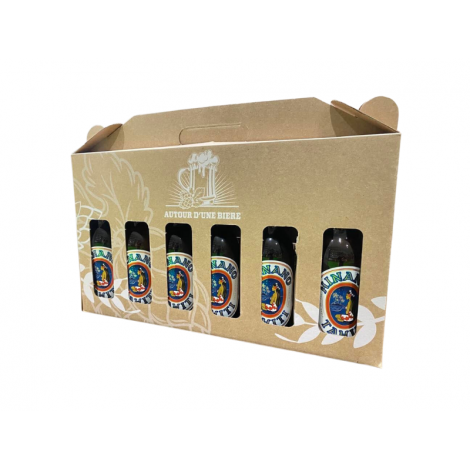  
6 beers Hinano (6x33cL)
Pack of Hinano Beers,
"The beer with the flavours of Tahiti"
The most popular beer in French Polynesia!
Our pack includes six beers Hinano luxury, brewed and made in Tahiti. Each bottle contains a natural and pronounced bitterness, blended with ingredients of quality exemplary.
Hinano beer has been made in Tahiti in the Punaruu Valley, at the most modern production site in the South Pacific islands since 1955. This beer holds a special place in the hearts of Polynesians.
This beer has been awarded with international awards (Gold Medal in Luxembourg in 1990 and Gold Medal in Brussels in 1993)
Basic fermentation, 5% alcohol in 33cL bottles.
Our pack includes six Hinano beers, brewed in Tahiti using a specific manufacturing process. Each bottle contains a blend of ingredients with a unique and natural taste.
Order now our pack of six traditional Tahitian beers and let yourself be carried away by a unique taste experience. Treat yourself to a sensory journey through the bewitching flavors of the island, right from the comfort of your own home. Get ready to awaken your senses and experience a true journey to the heart of Tahiti, with family or friends.
"Alcohol abuse is dangerous for your health, consume in moderation. Alcohol should not be consumed by pregnant women.
The sale of alcohol is prohibited to minors: you certify that you are of legal age and legal capacity to purchase on this website. »