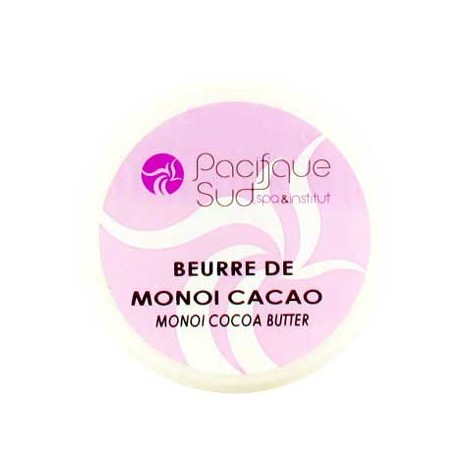  
Cocoa Monoï Butter (125 mL)
Beneficial properties:
The Monoï Cocoa Butter has a moisturizing, firming, repairing and protective power. strong>.

Easy to use, it allows you to perform excellent massages.
With a melting point close to skin temperature (34-36°C), it penetrates quickly and easily.

Excellent for daily use for nutrition, repair and firming of the skin, all over the body.
Avoid the face, especially combination to oily skin.
Recommended for the treatment of curly, dry or damaged hair lengths.
In Polynesia, the art of beauty and well-being has a name:
the Monoï de Tahiti which means Sacred Oil
The Monoï de Tahiti is born from the maceration of fresh Tiaré flowers, Gardenia tahitensis, in Refined Coconut Oil .

Monoï de Tahiti Butter results from the hydrogenation of the unsaturated fatty acids which make up Monoï de Tahiti oil.
Originally from Central America, the Cacao Tree (Theobroma cacao) is a large tree which produces fruits, called pods, from which the are extracted. Cocoa beans.
After roasting the beans, they are reduced on the one hand to powder and on the other hand to butter, for better cosmetic use.

The Monoï Cocoa Butter results from the combination of these 2 butters and therefore benefits from all their combined properties.
Pros:
- Soft, melting texture
- Ready to use
- Moisturizing and restorative
- No synthetic fragrance
Data sheet
Ingredients

Theobroma cacao seed butter, Hydrogenated coconut oil, Cocos nucifera oil, Cera alba, Gardenia tahitensis flower, Tocopherol

Capacity

125 ml

Packaging

Plastique Tub

Use

Apply generously on the whole body by penetrating by light circular massages. It is used daily, all the year, at the exit of the bath or the shower, and after exposure to the sun.

Precautions for use

It is advisable not to use this product before sun exposure. Avoid contact with eyes. Do not swallow. External use.