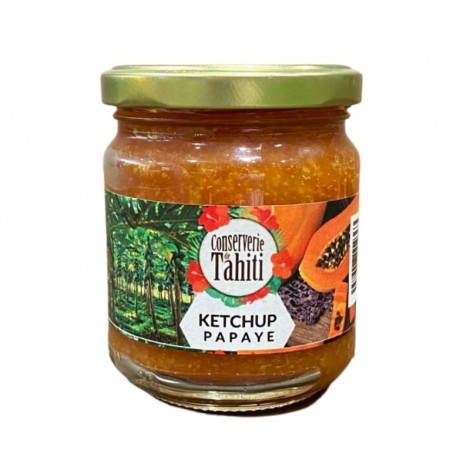  
Papaya Ketchup (200g)
Tahitian Papaya Ketchup from the Conserverie de Tahiti
Taste the delicious Papaya ketchup from the Conserverie de Tahiti. Prepared with premium papayas, this exotic ketchup offers a unique alternative of sweet and slightly tart flavors. Accompany your favorite dishes with an unusual touch.
Ingredients
Papaya (70%), sugar, vinegar, salt, guar gum, cinnamon, cloves, coriander, garlic, pepper.
The ethic of the company is to offer products transformed in an artisanal way by drawing from the extraordinary Polynesian terroir.
All the fruit comes from local agriculture.
The cannery implements a sustainable development approach on a daily basis. Organic waste is composted.
We mainly use recycled and recyclable packaging. We have chosen biodegradable cleaning products for the maintenance of our spaces.
It is in our workshop - shop with Michèle and Tepapanui that we produce our entire range of products in an artisanal way.