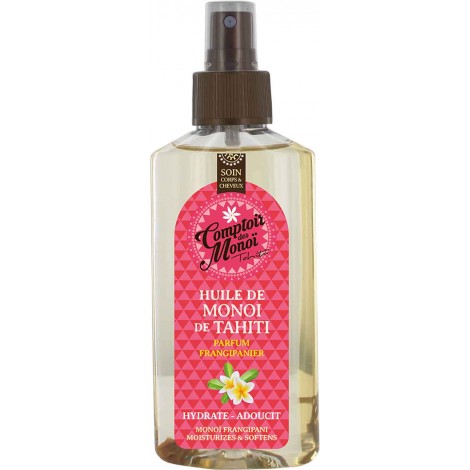  
Monoï Oil from Tahiti - Fragrance Frangipani - Spray (100mL)
Let yourself be carried away by the exoticism of Polynesia!
Between sweetness and freshness!
Used in daily body care, Monoï de Tahiti Frangipani Oil softens and protects your skin.
You will also appreciate it as a relaxing massage oil, bath oil, or all summer long as an unprotected tanning oil.
Used in repairing and nourishing hair care, this oil reveals radiance and shine for dry, damaged or frizzy hair.
Under the sun, in daily care, after a shower or in a relaxing massage, let yourself be transported by its sensual and delicately floral scents.
Light and silky, Frangipani Monoi Oil moisturizes and nourishes your skin and hair, leaving them silky, shiny, and delicately scented with that particularly and persist fragrance of heaven.
Using advice :
Body care :
Apply to the body with light circular massages to protect your skin before or after sun exposure, in the bath for absolute relaxation thanks to its intoxicating and heady scent, or daily hydration morning and evening ... Your skin is nourished, protected, sublimated.
Sun care :
Before each exposure it is important to choose a product that suits your skin type.
Without sun protection factor Frangipani Monoi Oil is suitable for mature, black, or already hauled skins. Apply to the skin after a shower and exposure to the sun to intensify the tan, and nourish the weakened epidermis.
Hair care :
Apply as an intense repair mask on your lengths, by daily small touches (on dry or wet hair), or after a solar exposure. With its high concentration of Monoi de Tahiti, Tahiti Monoi Oil Frangipani, repairs, nourishes and protects your hair throughout the year.
The assets :
- Paraben and preservative free
- Not allergenic.
- Moisturizing
- Not stick
To note :
- Can be used in both summer and winter (Becomes liquid near a heat source).
- It is recommended to avoid exposure to the sun during the hottest hours, especially for children and pregnant women.
Main ingredients :
- Monoi of Tahiti A.O.
- Frangipani Fragrance
Composition :
Cocos nucifera (coconut) oil, Brassica campestris (rapeseed) seed oil, Elaeis guineensis (palm) oil, Perfume (fragrance), Gardenia taintesis flower, Tocopherol, Amym cinnamal, Linalool, Benzyl salyicylate, Hydroxycitronellal, Butylphenyl methylpropional, Benzyl benzoate.