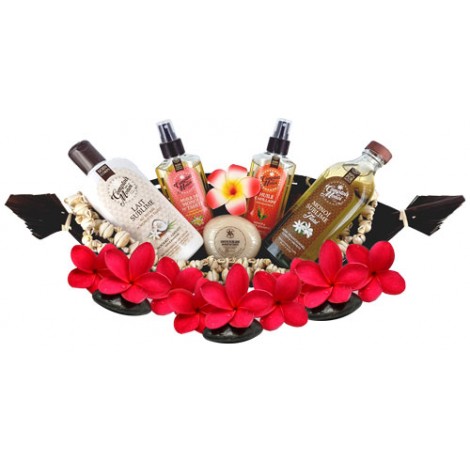  
Beauty Box : "Te Avae"
Enjoy the different textures and scents of our body milk and scented oils enriched with Monoi de Tahiti A.O. ...
A perfect selection of products Comptoir des Monoï for sublimated skin and hair, to shine all the year !
Our selection of products for the Box "Te Avae Box"
- Monoï Sublime Tiare, 200ml : The flagship product of the Comptoir des Monoï range, with its maximum concentration of Monoï de Tahiti A.O. moisturizing, nourishing, repairing and protective, it softens and protects the skin.
Used in repairing and protective hair care, it reveals the shine and shine of the hair. You will also appreciate it as a relaxing massage oil, bath oil.

- A Sublime Body Milk : Smooth and delicately perfumed, this body lotion enriched with Monoi de Tahiti A.O. nourishes your skin deeply and protects it from external aggressions. Your skin is soft, velvety and repaired.

- A Monoï Hair Oil : Delicate match of several vegetable oils essential for the health of your hair ! Castor oil to stimulate the growth and fortify the hair fiber, Macadamia Oil to protect it soften and moisturize and finally the Monoï de Tahiti AO which will bring all the softness, the discipline and the suppleness to your hair... A real booster for your hair !

- Monoi Frangipani Oil : A multi-use oil (body and hair care) enriched with Monoi de Tahiti A.O. with golden and sunny Frangipani flower notes.

- The Sublime Soap, 100g: Sweet and scented Monoi de Tahiti to clean and nourish your hands in depth.

- A Barrette for your hair - Frangipani Flower + a Bamboo Basket for free ! *

* Subject to availability while stocks last
USING ADVICE of The Monoï Sublime Tiare, the Capillary Oil and the Frangipani Monoi Oil :
- For the body care: It is ideally applied after the shower on a wet skin a little, for better moisturization.
- For the hair care: In small touch when styling on wet or dry hair, or in intense care, applying a good amount on the length, before and after the shampoo.