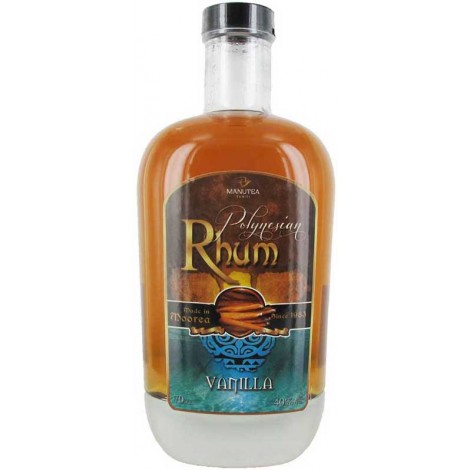  
Manutea Vanilla Rum - 40° (70cL)
Manutea Rum, a "Made in Tahiti" drink
Discover our Vanilla Rum, which comes from molasses fermentation (2nd juice from sugar cane at low temperature), a double distillation and maceration in oak barrels, which gives the rums Manutea all their originalities and their powers.
The Tahitian Vanilla premium quality provides this range with unique and 100% Polynesian flavors.
Whether tasting pure, exotic cocktail or as an accompaniment to a refined dessert, our Manutea Vanilla Rum is the ideal choice for lovers of exquisite flavors. Let yourself be carried away by this unique taste journey and succumb to the bewitching charm of our exceptional rum.
Find other Polynesian flavors of this range of rum Manutea, with the Rum Tiare 40°
and the Rum Pineapple 40°.
"Alcohol abuse is dangerous for your health, consume in moderation. Alcohol should not be consumed by pregnant women.
The sale of alcohol is prohibited to minors: you certify that you are of legal age and legal capacity to purchase on this website. »
Data sheet
Ingredients

Brandy of molasses, distilled water, fruit (maceration of vanilla)

Capacity

70 cl

Packaging

Glass bottle

Use

Ideally tasted "on the rocks" or with a touch of cane syrup, Manutea rums will reveal all their subtle aromas of pineapple, vanilla or Tiare flower.

Réglementation

Alcohol abuse is dangerous for health, it impairs the behavior and prohibits the driving of a vehicle. To consume with moderation.
Specific References
EAN13

3458518113205