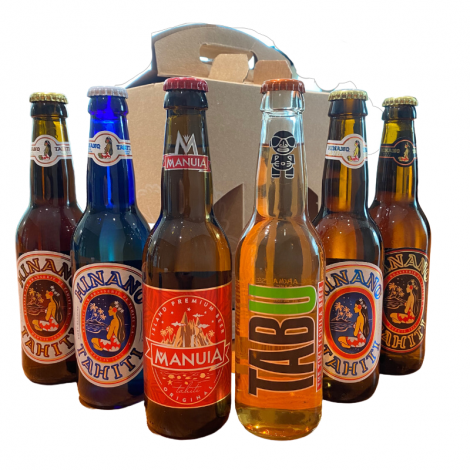  
6 beers from Tahiti (6x33cL)
Discovery pack of six beers from Tahiti,
The beers of French Polynesia!
Discover our selection in a pack of six beers, for a varied and friendly taste experience, including:
-A special Gold Hinano beer on the occasion of the 100th anniversary.
-A Hinano White beer with citrus and coriander notes.
-A Hinano Amber beer with a refined and full-bodied character.
-A Tabu beer flavored with Tequila.
-A Hinano, the original beer of Tahiti.
-And the surprising and fine Manuia Original.
Sample this local selection, ranging from a light lager to a Tequila flavored beer.
Each batch is carefully prepared, fermented and bottled, preserving the authenticity and quality of each beer.
Our pack includes six unique beers, brewed in Tahiti through a specific manufacturing process. Each bottle contains a blend of ingredients with a unique and natural taste.
Whether you are a seasoned beer lover or simply looking for new sensations, our beers from French Polynesia will tickle your taste buds. Their distinct flavor profiles offer a palette ranging from refreshing fruity notes to delicate floral aromas and lightly citrusy touches.
Made with love and passion by the Tahiti brewery, these traditional beers are the result of authentic craftsmanship. Each sip brings you closer to the traditions and warmth of Tahitian hospitality, inviting you to savor the moment and escape to a tropical paradise.
Order now our pack of 6 traditional Tahitian beers and let yourself be carried away by a unique taste experience.
"Alcohol abuse is dangerous for your health, consume in moderation. Alcohol should not be consumed by pregnant women.
The sale of alcohol is prohibited to minors: you certify that you are of legal age and legal capacity to purchase on this website. »